Do you have a healthy distribution diet?
by Jason Willitts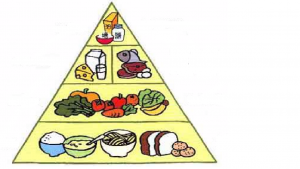 Do you remember the food pyramid?  The graphical representation of a healthy diet, which many of us remember growing up with, visually shows us how much of each food group we should eat in a day.  The biggest section at the bottom shows that the largest portion of our daily calories should come from grains like bread and rice, then fruits and vegetables next, and so on.  
For product manufacturers and suppliers, you can similarly think of your distribution as a "diet", wherein you need a healthy mix of channels to sell your products.  Think of a chart with your sales volume on one axis and your profit margins on the other axis.  Let's take a look at how to create a healthy distribution diet.
The Distribution Pyramid
At the bottom of your pyramid you have B2B channels, the largest sales division for most manufacturers and intermediaries.  Large national retailers or e-commerce giants like Amazon will give you the highest volume of sales.  However, as suppliers have little control over placement, price and promotion, these channels typically lead to price erosion and diminished profits.
On the top of your pyramid is direct-to-consumer.  While giving the lowest volume to most, companies can enjoy the highest profits and improved control.  But the efforts required to reach consumers directly are costly and time-consuming, involving expensive marketing and advertising campaigns. These OpEx costs ultimately lead to erosion of profits as well.
But what about the large middle section? While B2B is characterized by high volume / low margins, and B2C is low volume / high margins, there is room in the middle to attain strong volume AND increased profits, using B2B2C channels.
Programmed B2B2C
B2B2C (also known as drop ship) is a collaboration process between two companies that creates mutually beneficial service and product delivery channels.  B2B2C combines B2B and B2C for a complete transaction, allowing manufacturers to avoid handing the control of their products to distributors and retailers.  "Programmed B2B2C" allows manufacturers and distributors alike to manage their entire drop ship ecosystem via a cloud platform.
Quipt offers a programmed B2B2C platform which allows 100% control of your drop ship activity via cloud technology.  Quipt's SaaS platform, launched in June 2015, allows suppliers to control price, publication, promotions, orders and returns, via any web-enabled device.
Quipt enabled B2B2C, provides top line expansion with little to no OpEx increase – leading to improvements in your bottom line that B2B and B2C can't achieve.
The Ideal Pyramid
Just like the food pyramid, your distribution diet requires a mix of channels in order to maintain healthy results.  B2B is necessary and will be where the largest volume of sales occur in most organizations.  And B2C is a smart choice as a way to reach customers loyal to your brand directly.  Finally, there is a large middle path, Quipt-enabled B2B2C, which can provide you with strong sales and a bottom line increase that will enable your product line to maintain a healthy diet of volume AND profits.